The Ohlone Wind Orchestra, one of the nation's leading wind bands, is dedicated to presenting exciting professional-quality performances of contemporary wind music ranging from Bernstein and Copland to Holst and Hindemith.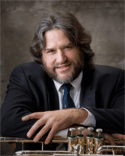 Under the direction of Tony Clements, the ensemble's 50 musicians perform an annual concert series in one of the west's great concert halls, the Smith Center for the Performing Arts.
Next concert: MUSICAL WILDFLOWERS on Sunday, March 29 at 2:00pm. Join us!
---
Don't miss a performance — subscribe to our concert announcement emails.